Contact Us
Have a question? Submit your general inquiry here using this form, but please do not send personal health information.
Wichita Falls Endodontics
Thank you for your interest in Wichita Falls Endodontics, a dental practice dedicated exclusively to endodontic care.
Endodontists are dental specialists who have completed additional years of education after traditional dental school. Endodontic residencies are not only focused on advanced surgical and non-surgical skills but also technological advancements and trauma management that allow the specialist to yield optimal results. Treatment options include traditional root canals, trauma relief for children & adults, and surgical removal of "infected tissue." Endodontic training also allows the specialist to provide efficient quick treatment while minimizing any pain or discomfort. If you would like additional information, please contact us at (940) 247-0286. We welcome the opportunity to serve you.
Office Hours
Wichita Falls Endodontics is open Monday - Friday from 7 AM until 5 PM. If you have pain or an emergency situation, every attempt will be made to see you on the day you call for an appointment. Our goal is to provide accessible care with exceptional service. We will schedule your appointment as promptly as possible.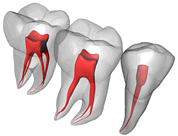 What is a Root Canal?
A root canal is a highly predictable procedure with success rates around 90-95% when performed by an Endodontist. A root canal is the most affordable way for many patients to retain their natural teeth. A root canal is one of the most common dental procedures with well over 14 million performed every year. Most root canal treatments can be done within one appointment. Symptoms of the infection can be identified as discoloration, swelling around the tooth, sensitivity to temperature or pain in the tooth and gums. Read more